Hire Experts in EV Charger Installation
Trust Certasun's expert electricians to install your EV charger.
We cut our teeth installing the most powerful residential solar systems in the world, so we know how to design, permit, and install in complex residential electrical environments.  We are also fully licensed and insured, of course.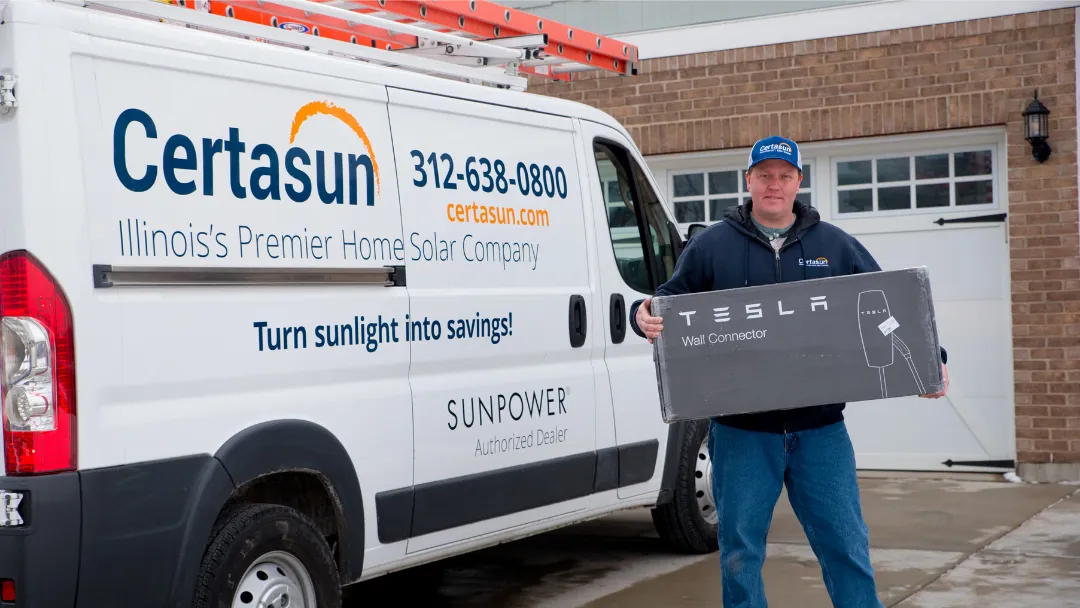 Get the Best Advice and Best Equipment
Understanding your car charger choices can be confusing.  We are happy to guide you.  Just call us at (312) 638-0800.
We can install a Tesla or Wallbox charger.  Or, we can just install a 240 volt outlet so you can provide your own charger.
Get a Quote Easily
Understanding how much EV charger installation will cost shouldn't be a major project.  Answer just a few questions about your home on our form, below, and we will email you a quote.
Unlike many other companies, we include all permitting fees in our pricing so you won't be surprised later.
Expect us On-Time
EV charger installations are our first appointment of the morning—no need to guess about when we will arrive.  Of course, if you prefer a different time we are happy to work with you.
Take Our Customers' Word for It
We think we're great, but see what our customers are saying on Google.
From beginning to end of the project, Certasun was fabulous. They handled all the village paperwork, walked us through the project and met deadlines. The consultant was really so kind and provided all the information we needed. Highly recommend Certasun.
If you care about customer service and professional and qualified people chose Certasun. The installation crew looks so happy and they feel proud to work there, that means the company takes care of their employees and the employees will take care of you.
Get an EV Charging Quote in Minutes!
Enter your information below to receive a quote for EV charging equipment by email.